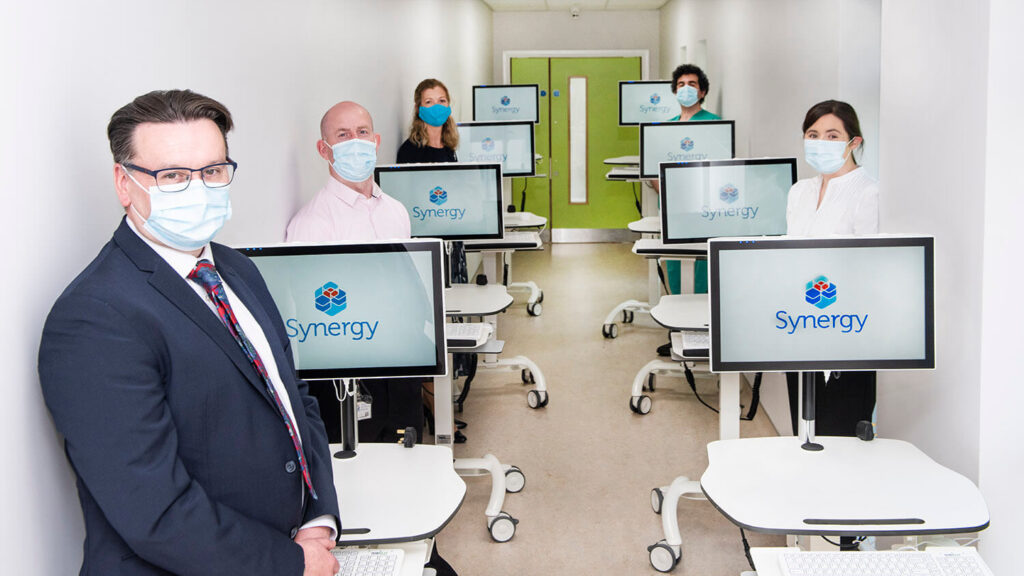 Tallaght University Hospital has made a key step in their five-year strategic plan for improving access to services by joining up with MDI Medical to announce the roll-out of a hospital-wide electronic patient record (EPR) – named Project Synergy. The design, development and implementation of over 100 Workstations on Wheels (WOWs) in partnership with MDI Medical will revolutionise the way clinicians can access patient data and how patient care is delivered across the hospital's multiple locations and aligning the "Anytime, Anywhere, Any Device" strategy. Powered by software developed by Northern Ireland and Galway-based companies and with the design and delivery of the WOWs from MDI Medical in Meath, the project reflects the exceptional work of healthcare technology companies coming together on the Island of Ireland.
Phase 1 to overhaul the clinical experience and enhance patient care falls in line with priorities laid out by Tallaght University Hospital's 2019-2024 strategy to replace legacy systems and implement digital enabled care. Through the implementation of TUH's Synergy EPR and facilitating digital information sharing through mobile-enabled solutions, departments and clinical wards within the Hospital have been joined up giving clinicians access to a wealth of centralised information which facilitates faster and more accurate treatment.
The implementation of the Workstations on Wheels means these can be brought to the patient's bedside for immediate access to information including patient history, laboratory results and care notes as well as offering a localised entry point for data including reporting during ward rounds and updating patient vitals, offering a stable, practical, and portable solution for caregivers.
Commenting on the collaborative project between the hospital and MDI Medical, David Wall, Chief Information Officer at Tallaght University Hospital said: "Our collaboration with MDI Medical to introduce over 100 WOWs across TUH has improved the patient and clinician experience by joining up multiple locations and departments within TUH, enhancing collaborative healthcare and providing staff with increased access to patient information to better inform treatment plans. By taking a strategic approach to rolling out the WOWs across our Hospital and working closely with MDI Medical every step of the way, we have been able to introduce staff to the new technology in a way that enhances and improves their way of working rather than disrupting their workflow."
"Our partnership with Tallaght University Hospital has introduced the latest Healthcare IT solutions and will improve how hospital staff can electronically document across the continuum of care," commented Gareth Dempsey, Director of Healthcare Technology at MDI Medical. "The combined partnership between MDI Medical and TUH has allowed for the design and implementation of mobile WOWs tailored to the hospital's workflow and will create a leading healthcare device strategy for the integration of clinical systems to support patients and caregivers."
The mobile WOWs are also reducing the amount of travel through the hospital required from patient care teams, therefore cutting down on time inefficiencies, lessening the risk of infection spread, and helping to ease the burden for busy healthcare workers who spend a significant amount of time travelling between bedsides and reporting stations and communicating with other departments within the hospital.
A major development in the continuum of care is the introduction of the Vital Signs Automation project/Early Warning Score – EWS. Early Warning Scores are validated tools designed to facilitate the early detection of potential deterioration in a patient's condition based on changes in routinely measure physiological parameters over time. Rapid recognition of these changes followed by appropriate escalation and response is associated with improved patient outcomes.
Specially designed to allow for patient monitoring support and intervention, EWS-enabled carts are fitted with additional equipment including a PC, barcode scanner, printer, and key vital signs monitors which put all key information at the clinician's fingertips, allowing for urgent care and reporting to take place simultaneously. Manual capture and documentation of EWS parameters is time consuming with the potential for errors in calculation of final scores that may result in delayed identification of patients at risk of clinical deterioration.
With the implementation of the EWS-enabled WOWs, TUH intends to explore opportunities integrating their Electronic Patient Record and Early Warning Score system, allowing them to talk together for a streamlined experience.
"The introduction of the EWS-enabled WOWs has enabled electronic recording of all physiologic parameters integral to the EWS score thereby reducing the time taken to capture these measurements as well as ensuring accurate calculation of the total score," said Srininvas Kamila, IT Senior Project Manager, Tallaght University Hospital. "The effectiveness of the response limb of the EWS is critically dependent on accurate scoring. In our experience, the EWS-enabled WOWs are user friendly with easy to interpret displays. Notable features include an automatic on-screen countdown prompt for nursing staff to perform the next set of patient observations as well as a central viewing screen that allows clinical staff to have full sight of EWS scores for all patients in an area thereby quickly identifying any patients requiring rapid review. We anticipate that additional functionality in development will include automatic escalation to for example the clinical team, critical care outreach or anaesthetic team based on the EWS score and the escalation pathway in place locally; thereby reducing time taken to respond to potentially deteriorating patients under our care.
For more information on how MDI Medical is working to improve clinical IT and connectivity and streamline patient monitoring visit mdimedical.ie.